// GARAGE MAKEOVERS IN TWIN FALLS
Customize & coordinate like any other room in your home.
CONSULTATION
IT'S TIME TO GET ORGANIZED.
CONSULTATION
IT'S TIME TO GET ORGANIZED.
FANTASTIC GARAGE MAKEOVERS IN TWIN FALLS
Imagine a garage that is functional, organized and neat, nice to look at and a joy to work in. Well, all of that can now be your garage through the use of Gorgeous Garage storage. All our items are carefully built and intentionally designed to bring the best results!
//
MONKEY BARS & OVERHEAD RACKS
Our Monkey Storage System is available in two powder coated finishes Granite Gray, and Desert Stone. Assembling you dream garage has never been easier with our professional installers.

//

Monkey Bars ACCESSORIES
Don't settle with an ugly garage. Browse our accessories to find the perfect match you have been looking for. Our Graphite Pearl Finish handles and hooks make it easy to have a great looking garage.

//

CUSTOM CABINETRY
With each unique garage, comes a unique demand. Luckily, our Gorgeous Garage cabinets provide the residents of Twin Falls the options they need. Whether it's black, blue, yellow, or red, the list goes on. Your dream cabinet system is just a call away.

//

FLOOR COATINGS
Don't overlook the floor! With our 10 custom designed floor coat finishes, your garage can receive the final touch it needs to bring it to life!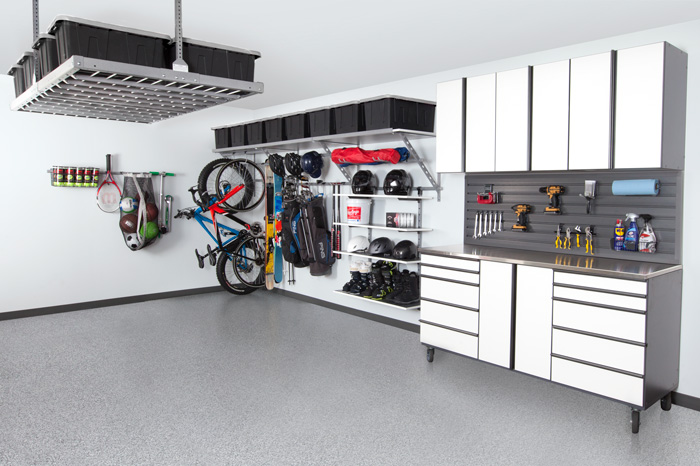 WHY IS THIS IMPORTANT TO YOU?
Having a great looking garage should be a point of pride for any homeowner. The issue is that most turn their garages into an extra storage unit, and soon the car doesn't even fit anymore! What's the point of having a two car garage when you can only fit one car!
Our cabinets, shelves, overhead racks and general storage systems, help you discover the garage makeover in Twin Falls you are searching for. Plus, we provide you a unique selection of colors, styles and sizes to ensure your needs are catered to. Custom built and professionally installed, there really is no downside!
The best part is we make this all available to you at a competitive price point.
HOW DO WE DO THIS?
With a wide selection of products, and the ability to customize to your needs, we provide only the best results. We know that you have a dream to turn your garage into the work space and storage area that you have always wanted. Allow us the time to inspect your garage so that we can accurately provide you with endless possibilities available to your garage makeover in Twin Falls today!
To view more design and color ideas, visit our line card gallery.
FREE ESTIMATE