// DURABLE FLOORING
Give your garage a gorgeous floor that lasts.
// WORRY-FREE FLOORING
Spills wipe right off our durable flooring.
// BEAUTY AND DURABILITY
Give your garage the floor it deserves.
CONSULTATION
IT'S TIME TO GET ORGANIZED.
CONSULTATION
IT'S TIME TO GET ORGANIZED.
GARAGE FLOORING
TWIN FALLS

GARAGES NEED
It's time for your garage to get the modern, updated look it desperately needs. But what products and professionals should you trust? We offer both epoxy flooring and garage floor tiles to produce the best finished product possible.
// Garage Floor Epoxy
Epoxy flooring provides you with a beautiful garage floor coating that is slip and stain resistant. Epoxy can fix and fill cracks in old cement flooring.
// Garage Floor Tiles
We offer garage floor tiles that are quick to install and durable enough to stand the test of time. With 19 color and design options, the possibilities are endless.

INDUSTRIAL STRENGTH
Our garage flooring can handle years of abuse

EASY TO CLEAN
Maintaining a pristine appearance is no problem.
CHEMICAL RESISTANT
Don't fret over spilled gas or oil
PROFESSIONAL INSTALL
Authorized dealers to ensure a proper installation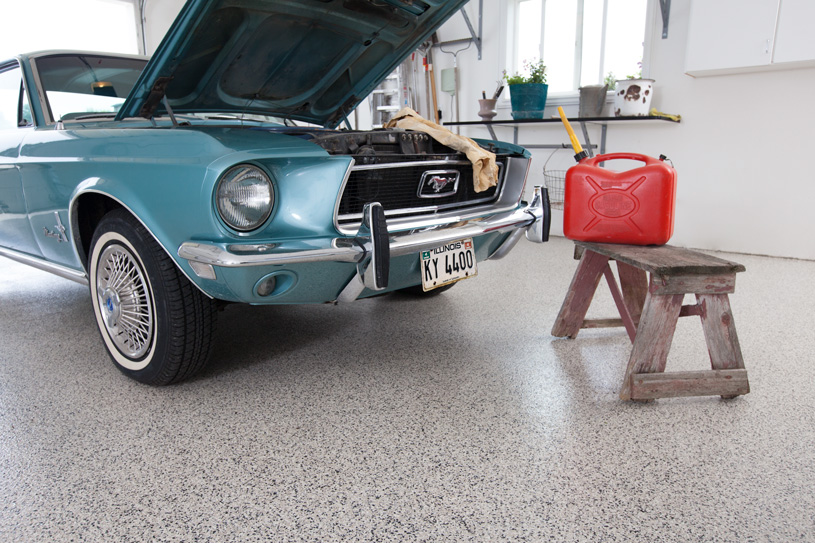 QUALITY GARAGE FLOORING PROCESS
We offer a professional service and a finished product you cannot get from our competitors or DIY kits. In addition, we can help you achieve your dream garage at reasonable price!
Job Well Done: We have the best garage flooring in Twin Falls. Our professional instillation teams come to your home and ensure that you are happy with the finished product.
Professional installation: Our professionals have the knowledge and skill to make sure your flooring is installed perfectly. The flooring will not only be functional, but durable and attractive. It takes 1-2 days to install and then it is ready for use within 24 hours!
Selection of Colors and Finishes: We want you to have the garage of your dreams, with this in mind we have several colors and finishes for you to choose from so that you have the perfect design for your garage.
Environmentally Friendly: We use only low VOC, non-toxic chemicals so that we don't have any harmful vapors in use. We want to put the safety of your home first, we also utilize recycled materials to make our floor tiles.
FREE ESTIMATE
Garage Flooring Highlighted Benefits
Eco Friendly: With our garage flooring you don't have to worry about leaving a destructive eco footprint. Our garage tiles are constructed from recyclable materials and our epoxy floor coatings are made with non-toxic materials that do not produce harmful vapors.
Variety: We offer a variety of colors and finishes so that you can choose the perfect option to fit your personality and style. We provide you with a full range of granite and solid floor finishes for coatings and tiles.
UV Stable: Our garage flooring in Twin Falls is UV protected, which prevents fading and yellowing over time. Rest assured that your flooring can stand up to sun exposure.
Slip and Stain Resistant: You no longer have to worry about slipping on spills or leaks or getting stains on your garage floor. Our garage flooring options are resistant to slips and the stains that inevitably happen in the garage.
Contact us today to achieve the clean and modern garage flooring you've always wanted!
// AS SEEN ON
If you're ready to transform your garage into the ultimate in efficient organization, garage flooring in Twin Falls is a great way to started!
It's more than storage.
It's your life.™