// OVERHEAD STORAGE
Go way up top for affordable space-saving storage.
// ABOVE THE COMPETITION
Store with confidence with industry leading weight capacity.

// OUT OF SITE, OUT OF MIND
Store rarely used items up high and out of the way.
CONSULTATION
IT'S TIME TO GET ORGANIZED.
CONSULTATION
IT'S TIME TO GET ORGANIZED.


SIMPLE OVERHEAD GARAGE STORAGE TWIN FALLS FAMILIES WANT
The easiest way to store less frequently used items out of the way is through the use of overhead storage racks. We provide you with top of the line overhead garage storage in Twin Falls. Read below to find out some of the benefits of using our overhead storage racks.
//

maximize ceiling space
Unused items can clutter the floor of your garage. Overhead storage racks help you take advantage of ceiling space to store your items out of the way.

//

Easily Accessible
Keep everything out of the way until you need it. Our overhead garage storage in Twin Falls allows you to easily access your items quickly, when you need them.

//

Strong
Each overhead storage rack is made from powder-coated steel and can hold up to 750lbs. When also mounted to the wall each rack can hold up to 1,000lbs.
SAFETY LIP
2" lip securely holds all of your storage in its place
CUSTOMIZABLE
Racks can be combined for greater storage capacity
NO SWAY
The unique design of these racks helps to prevent sway
PROFESSIONAL INSTALL
Authorized dealers ensure a proper installation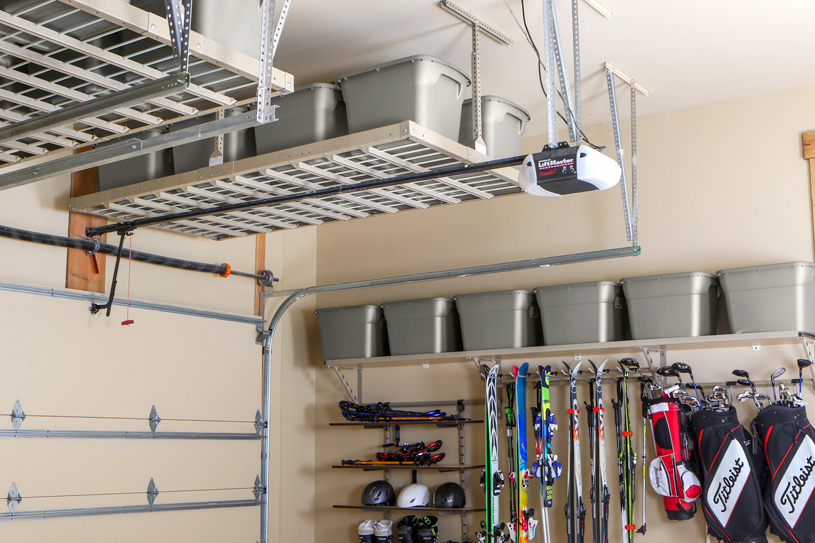 Special Features
Use your available ceiling space by installing overhead storage racks. You'll never have to worry about items littering the floor of your garage again.
Adjustable: Don't settle for a one size fits all option. Our overhead storage racks are fully adjustable. No matter the height of your garage, we are able to get your items stored comfortably overhead.
Affordable: These racks are very affordable for their quality. You won't ever have to worry about spending money replacing them over time.
FREE ESTIMATE
Amazing Benefits
2 Inch Lip: To ensure that your items never fall off, the overhead racks were designed with a two inch lip around the perimeter.
Speedy Installation: Professional organizers can quickly and securely install overhead racks to meet all of your storage needs.
Secure Mountings While some storage systems only come with a few mountings, these professional grade overhead racks come with several mountings. You can rest easy knowing that your items are secure.
Offering Monkey Bar Storage brand racks, we can give you the best quality products on the market. Give us a call today for a free estimate on the best overhead storage Twin Falls has to offer.
// AS SEEN ON
If you're ready to transform your garage into the ultimate in efficient organization, garage overhead garage storage in Twin Falls is a great way to started!

It's more than storage.
It's your life.™
OVERHEAD SOLUTIONS
Ceiling mounted racks can be placed above garage doors.
Wall mounted racks can hold up to 1,000 pounds per rack.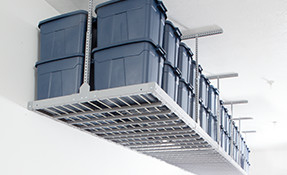 Each 8' rack can be combined with more racks to form even larger platforms.
Made from industrial grade steel, these racks can handle anything.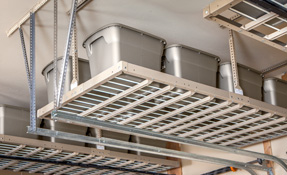 Your gear and storage won't go anywhere with the 2" safety lip.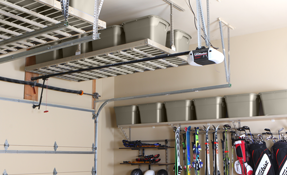 Overhead racks come in Granite Gray and Desert Stone to match your Monkey Bars Shelving System.