// DURABLE FLOORING
Give your garage a gorgeous floor that lasts and lasts.

// CLEAN AND NON-SLIP
Our flooring makes your garage easy to clean and safe to use.

// LIQUID RESISTANT
Wall-to-wall flooring that resists water, oils, and chemicals.
CONSULTATION
IT'S TIME TO GET ORGANIZED.
CONSULTATION
IT'S TIME TO GET ORGANIZED.
THE GARAGE FLOOR COATING TWIN FALLS NEEDS
Your garage floor takes on a lot of damage over the years, does your garage have stains and cracks? Our coatings are the perfect solution for any garage! We provide strong stain-proof coatings so that the floor looks great for years to come! Contact us today for a free consultation so you can have the best garage floor coating in Twin Falls!
//
GARAGE FLOOR COATINGS
The epoxy coating allows for a seamless, durable finish to your garage floor giving it a clean professional look! Get rid of those cracks in your garage floor with our garage coatings.
Our flooring is made with a very high solids content so that it doesn't peel over time. We provide a superior bond so that the garage floor stays strong. Our professionals are trained to give you a great floor that will stand the test of time.
NO PEELING
Diamond grinding ensures a superior bond that won't peel
UV STABLE FLOORING
Base coat will never fade, top coat will never yellow
CRACK & SPALLING REPAIR
We fill cracks, spalling, and control joints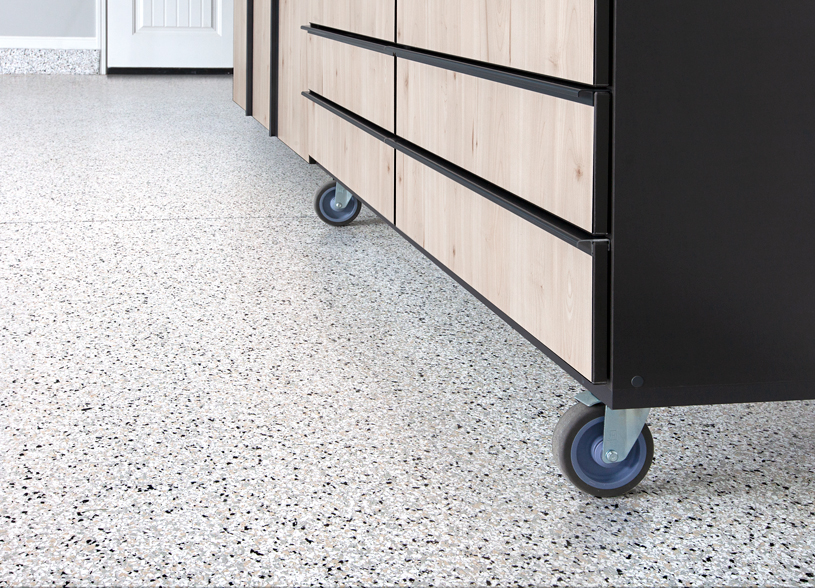 QUALITY GARAGE FLOORING IN TWIN FALLS
Our skilled professional will provide you with a finished garage flooring in Twin Falls that you will be proud of.
Installation: The process involves steps that both seals the concrete and fills in unsightly cracks. Generally taking up to two days and is ready for the family vehicle within 24 hours after completion.
Variety of Colors and Finishes: We provide you with a full range of granite and solid floor finishes.
Long Lasting: We've designed our floor coating systems for durability and lasting quality. No more unsightly stains. This flooring endures the wear and tear of garage life.
Non-Toxic Chemicals: The chemicals we use do not produce harmful vapors and are low VOC.
For the garage flooring Twin Falls families rely on most, give us a call today.
FREE ESTIMATE
THE BENEFITS OF OUR GARAGE FLOOR COATING IN TWIN FALLS
Easy to Clean:
We utilize a sealant that makes your floor super easy to clean! With any spill just use a cloth and some detergent or simply hose the floor down. It's never been easier to clean your garage floor!
Quality: We use the best materials to give you a floor that will stand the test of time! We know that our product will give you the strength you need and a look you love!
Added Value:
We know the garage is an extension of your home, completing the floor with a durable coating will increase the value of your home.
// AS SEEN ON
Be the talk of your neighborhood with a new garage floor coating in Twin Falls!
It's more than storage.
It's your life.™